22 February 2023
In Conversation with Chris Andreou - CEO & Founder, GoForma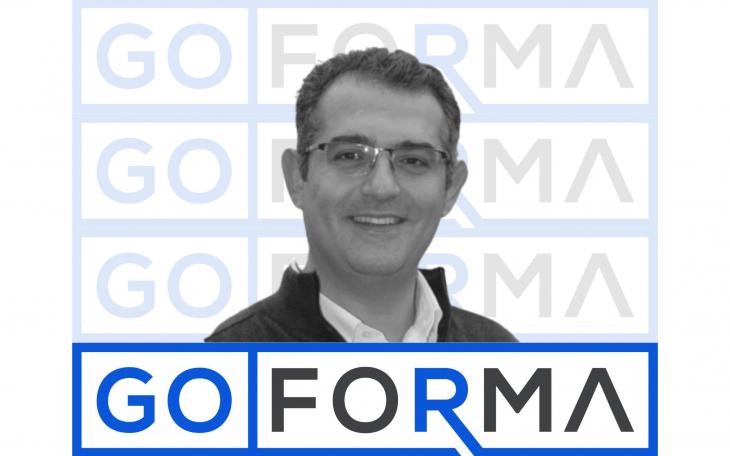 Launched in 2020, GoForma provides accounting and virtual office services for independent contractors, small businesses and sole traders. With highly competitive pricing, excellent ratings on TrustPilot and GoogleReviews, and multiple start-up award nominations, GoForma has established a great reputation in the market, and the business is growing fast. 
We spoke to CEO and Founder, Chris Andreou, to understand more about GoForma, why he wanted to set it up, and what's on offer for independent contractors: 
The reviews online are great - you clearly have a fantastic offering, congratulations!
Thank you! The reviews are great because the GoForma team is outstanding - they're all truly excellent people! 
 
Whether you have a super-complex financial situation, or you know literally nothing before you call, they'll get you up to speed quickly, and give the best advice they can from a tax-optimisation perspective. Everything from making sure you're claiming properly if you work from home, to understanding the tax advantages of investing in a pension, to claiming for relevant subscriptions and making the most of the trivial expenses allowance (top tip - the most efficient thing to do is to buy vouchers!). 
 
Everything at GoForma is designed for maximum efficiency and ease of use - we invested a lot of time in selecting the best accounting software and implementing communications processes to make sure customers are heard, held, and never left waiting in the dark. And price-wise we're difficult to beat - GoForma is a premium service at a fraction of the cost of others on the market! 
 
GoForma draws on your experiences both as an independent consultant and as MD of a global virtual office provider?  
Yes! I joined Bain after I'd finished my PhD at Cambridge, worked as a strategy consultant and then set up as an independent. Contracting was great, the associated admin was not! 
 
I spent a lot of time fighting with paperwork and accounting software, and trying out different accountants…! The premium offerings felt disproportionately expensive, but cheaper providers tended to compartmentalise: every time I had a new question I'd end up speaking to a different person - I felt like I was on a conveyor belt. And from conversations with other freelancers it was clear that I wasn't alone! 
 
In 2017 I took a contract as Managing Director of Virtual Services for a major global office space provider - it was a £200m business with 200,000 customers across 900 cities worldwide - and the experience got me thinking about what a virtual office proposition for freelancers and small companies might look like, and what other services we could build in alongside.  
 
GoForma was initially conceived of as a 'business in a box' solution, but when we started researching, it was clear that people generally look for individual services. So we decided to foreground accounting and virtual office, and then build out a range of partnerships, to help customers seeking additional support. 
 
What was the number one priority for you in setting up GoForma? 
People have complex lives. They'll have investment portfolios, properties, they'll change jobs, open and close companies - in which case they might need advice around benefits like entrepreneur relief... Keeping finances on track is super-stressful if you don't have the right help. I wanted GoForma customers to have one trusted person, who's really with them on their journey, who gives the right advice, at the right time.
 
What's the most popular package for independent contractors? 


 
The Operate Package, which includes payroll, VAT and self assessment, is our most popular package for limited companies. It's currently £89 per month + VAT - a price which is pretty difficult to beat!
 
You'll have a dedicated personal accountant and you can speak to them anytime - either by booking a slot straight into their diary or messaging on WhatsApp. People love being able to make direct bookings because there's no back and forth on email, and we chose WhatsApp over an in-platform SMS because it's much easier to use - and it's proved to be a very popular feature!
 
You'll have free access to best-in-class accounting software, FreeAgent, which is the number one solution for sole traders and independents (as a side note, most firms in the industry are moving away from in-house solutions due to issues with hacking and compliance).
 
In addition you'll have the option of a central London business address - a lot of customers use this for company registration purposes - and we also offer physical mail redirect and digital mail forwarding: we have a super slick automated process with a double-check in place to make sure nothing ever goes to the wrong person!
 
And if you're looking for a place to meet in central London, we have a great partnership with Finsbury Business Centre. You can use the cafe there for meetings - or you can book a room if you want something more private. It's a great space - third floor, lovely views! - with a dining area, lounge, co-working desks, call-booths... and come spring / summer there's also a fab outdoor terrace. And the super-friendly team who manage the cafe also run a baked-goods gift business - an excellent option if you want to send a box of delicious brownies to a client!
 
Finally, through our partnerships, we can connect you to a range of additional offerings including business banking, insurance and telephony services (you can have an 0207 number or we offer a digital solution in partnership with CircleLoop). We're growing our partnerships base all the time and we've got some exciting opportunities in the pipeline for 2023 - so watch this space!!
 
** To take advantage of a special discount for Choix Insights readers, use the code choix50pfor4 and you'll get 50% off your first 4 months with GoForma.**


Choix connects the buy and sell sides of consulting, providing fair and transparent choice for all. If you want to talk to us about a project, or you're looking to connect with our network of high quality freelance consultants and experts, please email hello@mychoix.com





 
I wanted GoForma customers to have one trusted person, who's really with them on their journey, who gives the right advice, at the right time.