Choix provides a fast and cost-effective alternative to traditional suppliers of professional services with complete transparency. We empower organisations through choice, providing verified experts quickly whilst dramatically easing the burden of cost and time.
Image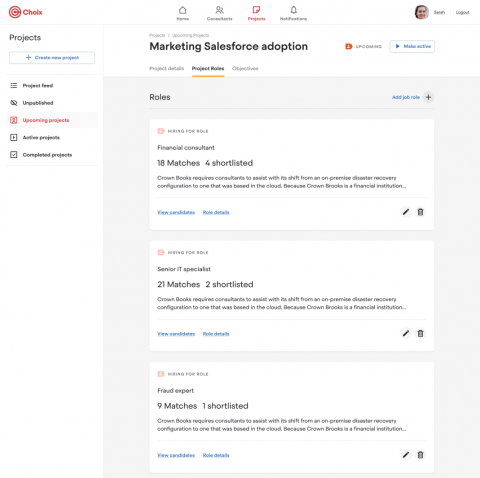 1. Post Your Project
Simply add all the relevant details of your project to our secure portal. Make sure to include things such as sector and functional expertise, location, job titles and job description to your post to find the most suited applicants.
2. Get Matched to Experts
Our expert matching service will quickly find you suitable consultants who are ready to start work.
3. Select a Candidate
Now, the choice is all yours. Look through your applicants, check their experience, read their references and choose the best team for the job.
4. Track your project
With our bespoke Quality Control Framework software you will be able to track the health of your project from start to finish. Ensuring that bumps are identified and addressed in real time. It puts you in complete control.
$250bn
The global consulting market is worth $250bn. Choix is disrupting this marketplace and redefining how buyers of expertise engage with the consulting world. 
$2bn
The UK independent consulting market spend is currently $2bn. Choix works for businesses of all sizes. It is our mission to redefine the buying of professional services and open the world of consulting to all. 
1000
We have 1000's of highly skilled independent consultants ready to take on their next challenge. 
Choix expertly matches organisations with consultants. Choix is helping create a world where open and equal connectivity means every business and every consultant can truly explore their possibilities.